The only wireless screen sharing solution you need
Airtame 2 takes huge steps forward in design and functionality, while still being extremely easy to use. We want to empower people in business and education to use screens and projectors to their full potential, and unlock better collaboration.
Airtame – the essentials of wireless screen sharing
Present wirelessly
Share from computers and mobile devices to TVs and projectors wirelessly – supporting full motion video and audio.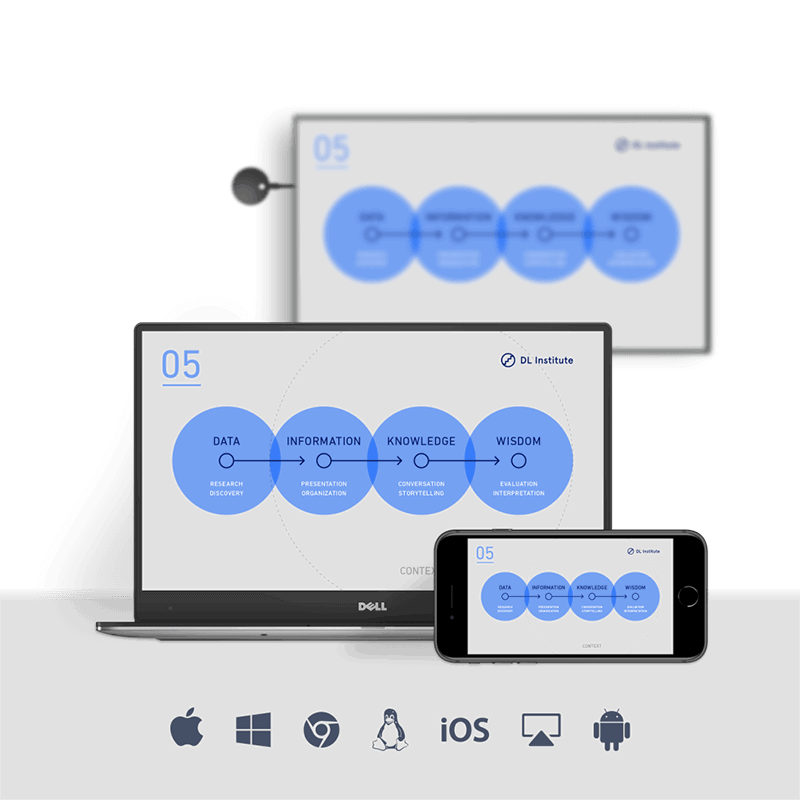 Digital signage with our native apps
Make your screens stand out with our mix of Homescreen integrations.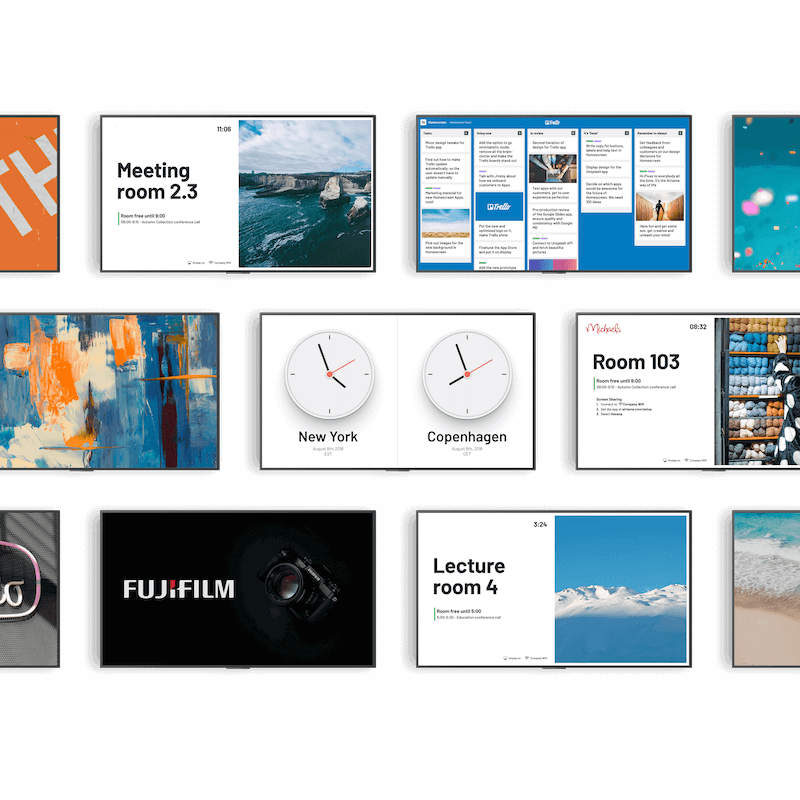 Remote management
Manage and monitor all your devices – straight from your desk, across locations and remotely – from Airtame Cloud.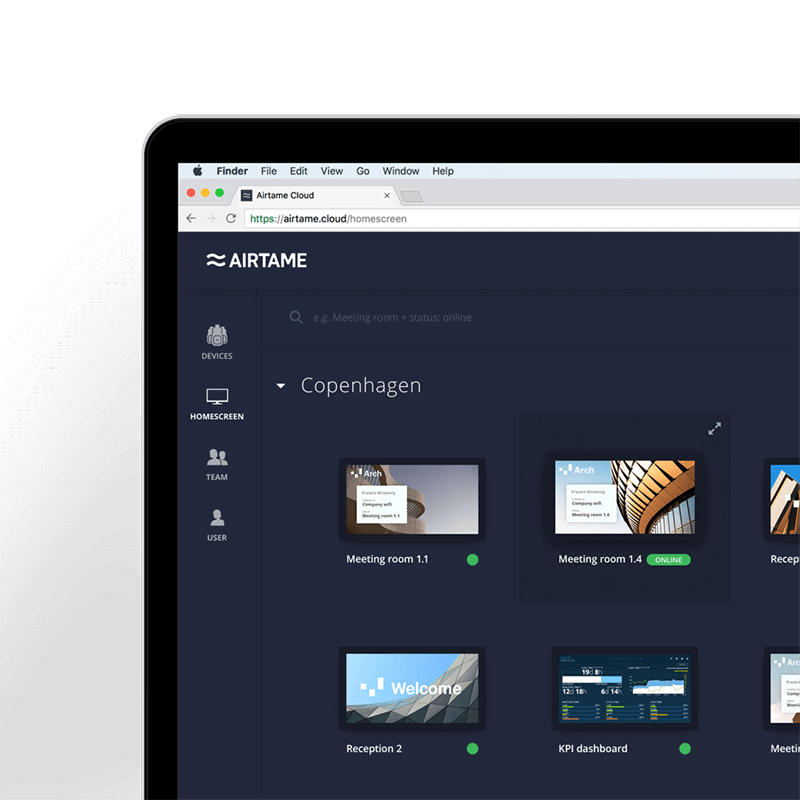 You want the most seamless screen experience possible. We upgraded the components in the Airtame 2 device to give you just that. Good just got better.
Stable connectivity
4x the memory of the first generation Airtame (with 2GB RAM) for quicker firmware updates, and driving more complex websites, dashboards and content.
Improved wireless reach – no interruptions
The state of the art WiFi chip offers 2x more bandwidth for the best connection in the industry. An even more stable wireless connection that allows you to move around a room more freely while you present.
A whole new look
The new design and form factor makes Airtame 2 a stunning addition to your workspace or school.
Faster load times, smoother transitions
A more powerful CPU to operate the Airtame 2.
Screens that dazzle
Full motion and audio capabilities, with 60 frames per second in Full HD for a smooth video experience when mirroring your device.
Enhanced security
The Kensington Lock slot allows you to physically secure your Airtame 2.
Intuitive LED
The glowing light indicates the current behavior of your Airtame 2, for ease of use and refined presence in the room.
Talk of the town
Here's what industry leaders are saying about Airtame 2:
…it allows us to get rid of some cables and that is always an added value in a company where you want your offices to be as clean as your designs. The GoMore office is a nice and well designed place and Airtame contributed to that and increased the value of our offices.
A great device to quickly allow devices to stream to TV's or other display. Worked right out of the box. The Airtame support staff are quick and ready to help if there are any questions or issues.
Anthony
CTO, Fast Company
Airtame is a clever device that meets our wireless streaming needs and the product just keeps getting better. I will continue to recommend Airtame to anyone that is looking for simple and flexible streaming solution.
Justin Butler
Senior Director of Technology Minnesota Timberwolves
Designed to be seen and recognized
The first generation Airtame was a secret agent in the back of your TV. Airtame 2 is a bold and beautiful step forward into the spotlight. You can customize the placement of your Airtame 2 to suit your style.
Use the supplied magnetic wall mount to give the Airtame 2 presence in your room and the best network connection.
Prefer to keep your Airtame 2 out of sight? Snap it to the back of a TV or on top of a projector using the included magnet mount.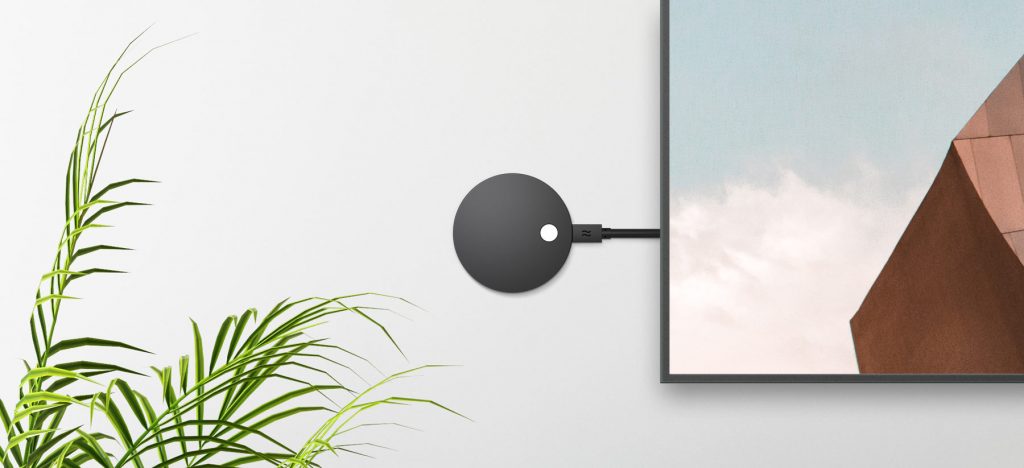 We launched Airtame in 2014, and have since brought hundreds of schools and businesses into the wonderful world of wireless screen sharing. 
18k
Organizations already powered by Airtame.
483k
Meetings and classes were powered by Airtame in November 2018.
38m
Minutes of wireless presentations in November 2018. Yes, that's millions!
Airtame 2 gives you the opportunity to mirror your entire computer screen to a TV or projector in an intelligent way.
From any computer
You don't need adapters, or anything plugged into your computer, just the Airtame connected to your screen, and the Airtame app on your computer.
The whole solution is platform agnostic, meaning it will work just as well on Windows as it will on Mac, Linux or Chromebook operating systems. This is perfect for the typical Bring Your Own Device (BYOD) environments you find in the modern classroom or office.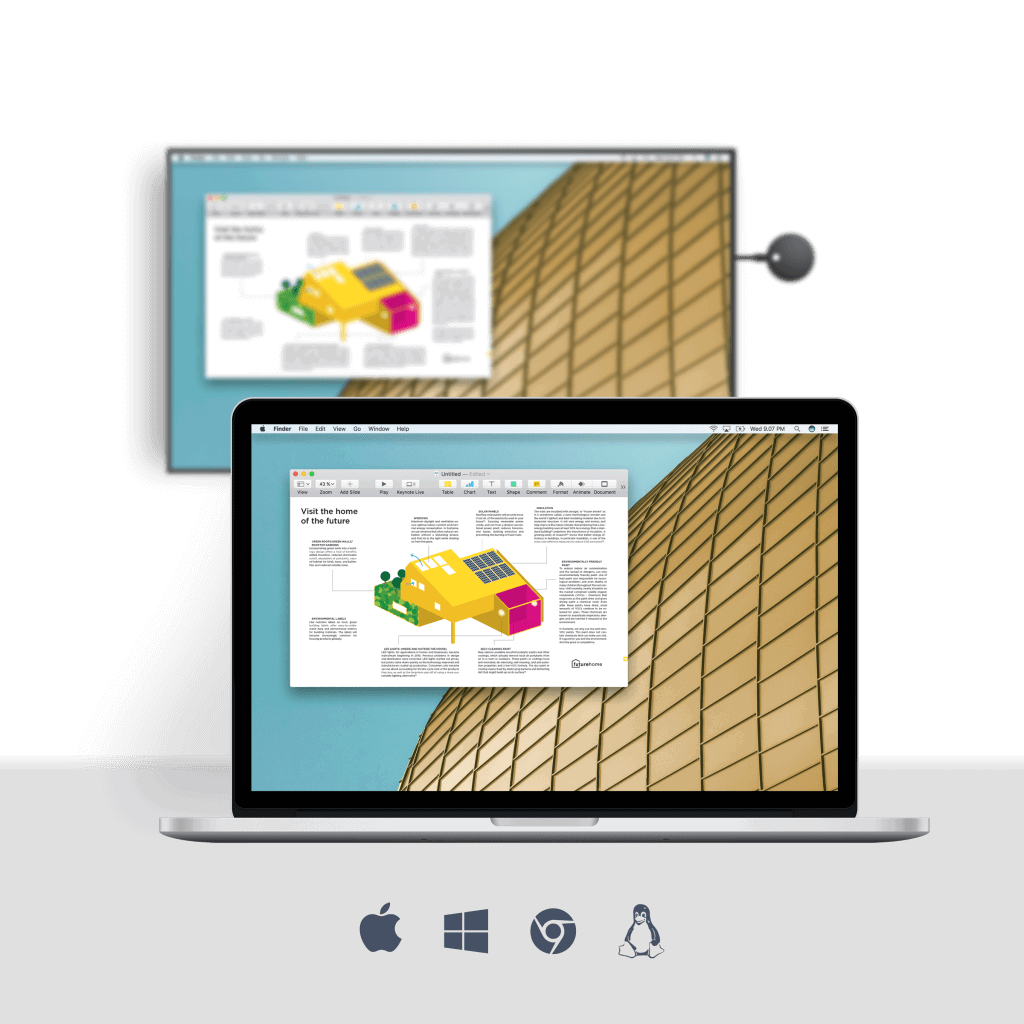 Single Window Sharing
Sometimes you only want to share part of your desktop. That's why we built Single Window Sharing – giving you the power to choose what you want to show on your screen, and what you want to keep concealed.
It's easy for you to select the window you want to share directly from the Airtame app. Once you are up and running, you can keep working on your own screen while everyone keeps looking at your shared window.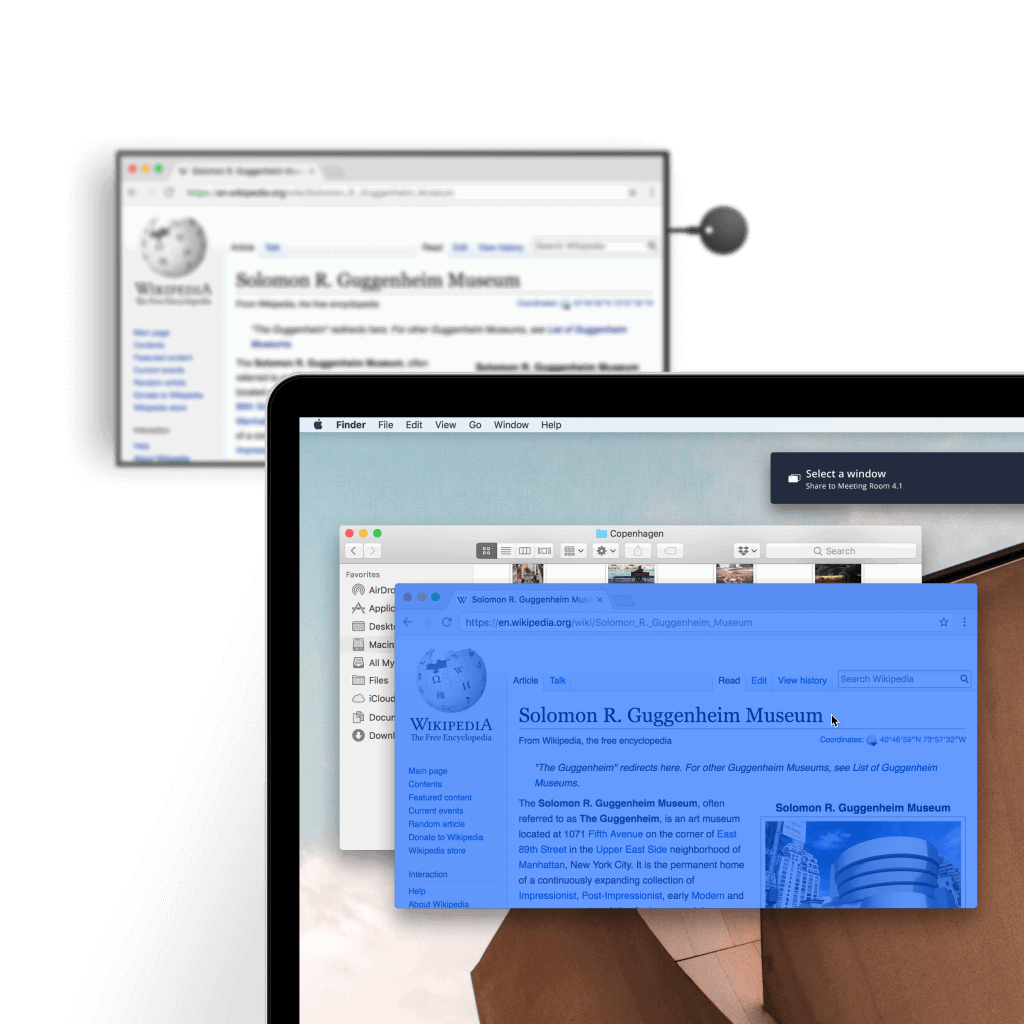 Present to multiple screens all at once
You can share your computer screen to multiple TVs or projectors which are equipped with an Airtame.
This is great in larger rooms, like auditoriums or classrooms, where it can be hard to keep people engaged. It's easy and something you could never do well with a cabled solution.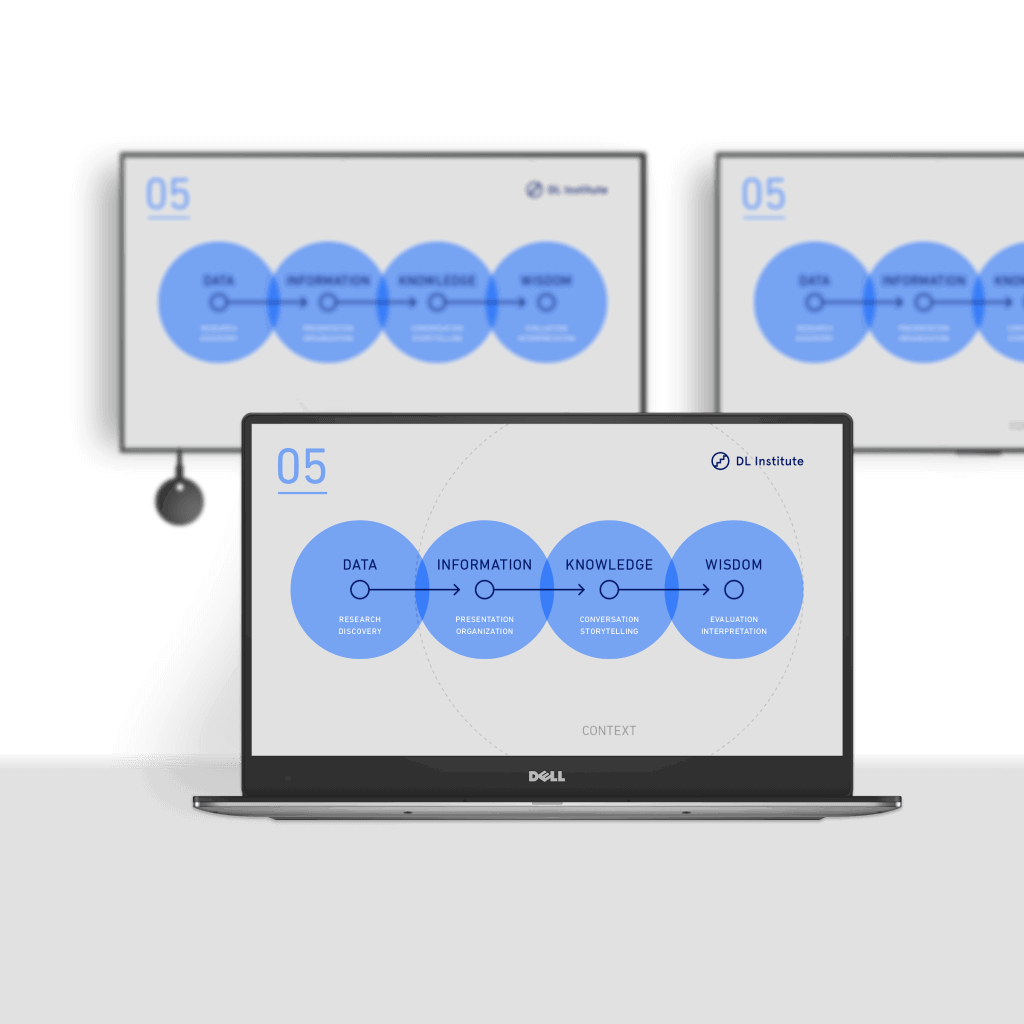 All-in-one Cloud management – accessible anywhere
The bigger your workplace, the more Airtame 2s you need. Normally, a large AV rollout requires a lot of messy troubleshooting, and this can put a huge strain on your IT support. Not with Airtame Cloud. It's an IT Admin's dream.
From your desk or remote
Use Airtame Cloud to manage and monitor all Airtames, from the comfort of your desk or remotely – even from a different network.
Get visual
Full visual overview of your Airtames and screens.
Quickly make changes
Bulk edit all settings on all Airtames.
Make your screens stand out
Update customized content on all your standby screens.
Stay up to date
Manually update your Airtames to the latest firmware in a few clicks.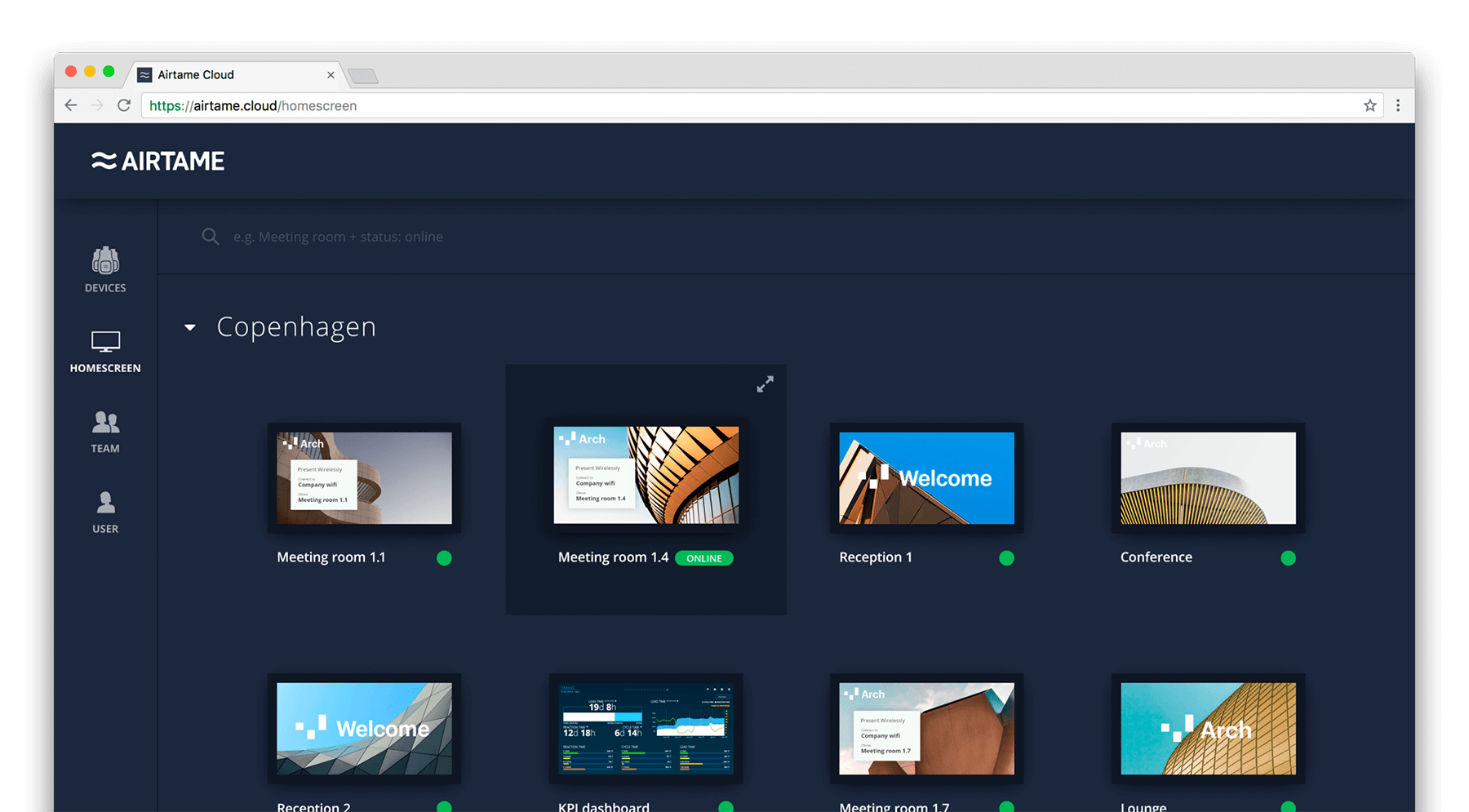 Use apps. Not cables
No need to use ugly cables or dongles to connect your devices to screens. The simple Airtame app gives you an overview of all your Airtame enabled screens and allows you to connect in seconds.
Open the app, click Share screen or window and get going.
Using the same room over and over? Favorite your most used Airtames to keep them at the top of your list
Select multiple Airtames to present to multiple screens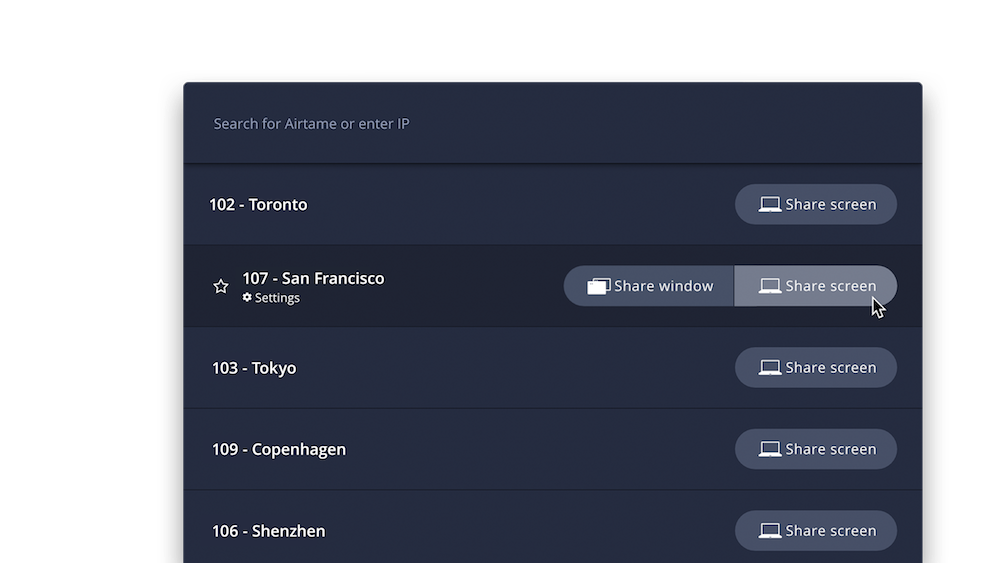 Easy for guests
Don't worry about getting guests up to speed. Customizable on-screen instructions tell them how to connect. They'll be presenting in no time.
Airtame 2 has multiple options to onboard guests. Find the one that works for you.